Terraria per Nintendo Switch riceve un corposo aggiornamento
Terraria è un popolare videogioco Sandbox realizzato da Re-Logic che conta ben 26 milioni di copie vendute e offre un numero di elementi / nemici in gioco molto ampio disponibile anche su Nintendo Switch dalla scorsa estate.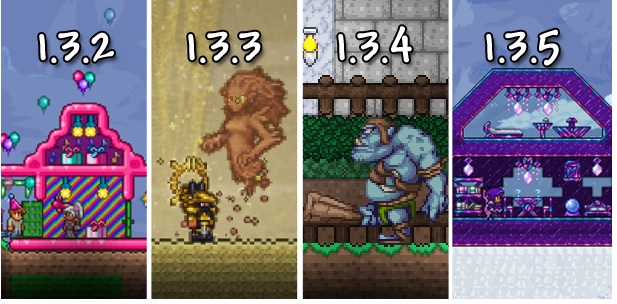 Gli sviluppatori segnalano la disponibilità su Nintendo Switch di un corposo aggiornamento che porta il gioco alla versione 1.3.5 e che include le migliorie anche degli update non ancora disponibili sulla console di casa Nintendo (ovvero le novità della 1.3.2, 1.3.3 e 1.3.4). Se siete interessati a questo gioco vi segnaliamo che su Amazon Italia Terraria è disponibile alla vendita su Amazon a 27,99€ a questo link.
Di seguito le novità implementate con il nuovo aggiornamento di Terraria:
Party Event

Parties have now been added! You can start your own via the Party Girl's Party Center or the Town NPCs may start one, if certain conditions are met….

These include fun new party-themed items such as

Bundled Party Balloons
Balloon Animal
Party Hat
Silly Tied Balloons
Pigronata
Party Center
Silly Balloon Machine
Streamers
Party Present

Desert Revamped

A new weather event has been added, sandstorms! With it come new enemies, new loot, a new soundtrack, and a unique experience in the desert biome!

Blizzards now have a new visual effect

Deserts and the Underworld now have a heat distortion visual effect.

Dripping sand effects can be found in the desert, and placed anywhere by the player with the Magic Sand Dropper!

All new Desert Items, giving you brand new reasons to plunge the sandy depths…

Forbidden Armor Set
Ancient Horn (Basilisk Mount)
Onyx Blaster
Sky Fracture
Mandible Blade
Spirit Flame
Pocket Mirror
Djinn's Curse
Lamia Vanity Set
Ancient Vanity Set
Desert Spirit Lamp
Magic Sand Dropper
Sandstorm Music Box
Several new banners

Old One's Army & Dungeon Defenders 2 Crossover Content

This update includes all of the content from our awesome crossover event with Dungeon Defenders 2! Of course, if you missed the equally amazing Terraria content in DD2, now would be a fantastic time to check that out as well.

Old One's Army Invasion Event

Invasion event featuring enemies, weapons, and gameplay mechanics inspired by Etheria – the Dungeon Defenders 2 universe
This event will play like no other in Terraria – featuring a brand new mechanic where you protect an artifact from invading enemies with the help of a unique defensive structure system
Multi-tiered event allows players at multiple points in the game to experience scaling difficulty, with corresponding loot
Enjoy rewards in the form of armor, weapons, pets and more, all straight from the Dungeon Defenders 2 universe!

The Tavernkeep, a new NPC from the Dungeon Defenders universe, has arrived. He will be offering a variety of Etherian loot and gear in exchange for an exclusive currency earned by playing the new invasion!

Completely redesigned liquid visuals. Enjoy the ripples and waves, as the player, enemies, and projectiles now have a visible impact when they enter and move through water

The Blizzard weather event now has a new, unique ambient sound when active

Toggles for recently-added visual and water effects that will allow players to balance beautiful visuals and performance to fit their preferences

A new ability for Summoner players to direct their minions to attack a specific target

New Items – Etherian Style

Four new sentry summons, each of which has three tiers of potency
Ten new weapons
Eight new armor sets
Five new accessories
Two new pets
One new light pet
Three new boss masks and trophies
Two new decorative furniture items
Defender's Forge – A brand new "Personal Safe" style furniture item, in the style of the Piggy Bank and Safe
Defender Medals – A brand new currency which can be spent with the Tavernkeep for much of the above

New Enemies

Ten new enemies, many of which can become visibly (and mechanically) more powerful as gameplay progresses
Two new invasion style mini-bosses: Dark Mage and Ogre
New Old One's Army Boss: the fire-breathing Betsy!

Other

New musical track based on the Dungeon Defenders 2 OST, complete with a matching Music Box
Over 200 new sound effects inspired and adapted from Dungeon Defenders 2

Summoner Changes

The way Sentry Summons function has been changed somewhat.

Outside of the DD2 Invasion event, you now have a limit of one sentry summon at a time
Some of the 1.3.4 content can increase this limit
Unlike before, when the sentry limit is above 1, you can summon multiple versions of the same sentry. For instance, with a sentry limit of 3, you could summon 3 Frost Hydras at the same time.

Summoners can now direct their minions to attack a specific target of their choosing. However, if the minions do not have line of sight, they will continue to attack targets at random.